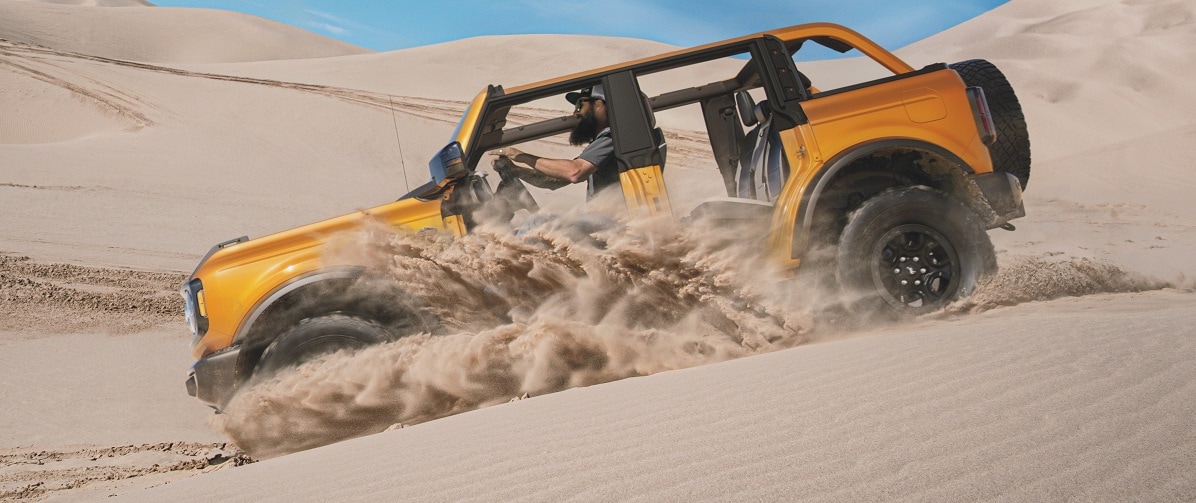 Breakdown of the New Ford Bronco
When Ford announced the resurgence of one of their oldest and most well-known brands, it made a lot of people extremely excited. The Ford Bronco has an iconic place in the American SUV landscape, and after remaining on the shelf for the past several decades, people want to know if this new Ford model is truly going to hold up to the model of the past.
At Rowe Ford Auburn, we were also very enthusiastic about this new Bronco. A new rugged SUV from one of America's premier auto manufacturers entering the market is something that could drastically change the current SUV tier list-so how does the Bronco look? We dove into the details immediately in order to find out all we could - read on to get further insight into the new Ford Bronco.
Performance
The Ford Bronco comes in a number of different trim levels, so we figured it'd be only fair to focus on the standard Bronco: the Base. Like the other available trims, the Bronco offers either a two-door or four-door option. The two-door is outfitted with a 7-speed manual transmission, while the four-door Bronco features a ten-speed automatic transmission.
The Base comes with a standard 2.3 liter EcoBoost engine, electric power-assist steering, and the inclusion of a Terrain Management System with "G.O.A.T." drive modes (Going Over Any Type of Terrain). With the ability to mix and match transmission and engine types to different bodies, the Bronco gives the option of a lot of customization. It also promises a driving experience that's simple and smooth regardless of terrain - unless you're looking for a bumpy off-roading experience in the first place.
Technology
The new Ford Bronco has been given a number of standard technology features in order to fit in with the current lineup of American vehicles. These standard features include amenities like smart-charging USB ports, an eight-inch LCD color touchscreen for easy entertainment management, and a steering wheel with audio controls.
When it comes to safety, the Bronco also comes with the works. Ford's Personal Safety System includes a multitude of safety technology, including airbag monitoring systems, severity sensors in the event of a collision, and much more. Ford's Co-Pilot 360 tech also shines as the collection of driver assistance features it is. A standard rearview camera, roll-stability control, and more all-round out the safety and security of the new Ford Bronco.
Interior Highlights
The Bronco's interior comes with a plethora of standard comfort and convenience features. Some of our favorites here at Rowe Ford Auburn include manual single-zone climate control, the Sync 4 infotainment system, and FordPass Connect. The newly upgraded Sync 4 system allows easy device connectivity to both Apple and Android devices, while both the front passenger and driver seat are manually adjustable up to six ways.
Exterior Highlights
The Bronco is definitely trying to establish itself as a go-to rugged SUV, and it provides all the tools to make that a reality. Removable doors and roof mean it can be adjusted to fit any environment or situation that you're in. Daytime running lamps help make the Bronco more visible at all times, while three tow hooks allow you to instantly make use of the Bronco's power to haul cargo or equipment through a trailering system. Plus, the SUV's side-view mirrors are fashioned with heated glass to improve winter visibility.
Learn More and Be the First to Test Drive the New Ford Bronco
If the new Ford Bronco has everything going for it that you're interested in, then why not come to our dealership and see it in person? We'd be happy at Rowe Ford Auburn to show you the Bronco up close, giving you the details of its ins and outs and how you can adjust and change it to make it your ideal SUV. To schedule an appointment or test drive, just call or visit us here at Rowe Ford Auburn.