Ford Service & Repair
Vehicle Repairs at Rowe Ford Auburn! Proudly serving Lewiston, Poland, Sabattus and Oxford
Here at Rowe Ford Auburn, we pride ourselves on providing the highest quality of customer service. This remains especially true in regards to our impressive service and repair center. Our team is full of experienced and professional technicians that are happy to help our customers all throughout Maine and beyond! We encourage you to call our service department, or you can schedule your service online! Of course, feel free to drop by at your convenience. We are located at 699 Center Street in Auburn. Come see for yourself why we have so many satisfied customers in Lewiston, Poland, Sabattus and Oxford.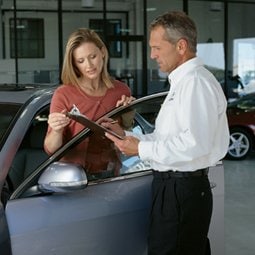 What We Offer
Our service and repair teams can handle any needed fix for your car. We offer comprehensive brake services that address every aspect of your vehicle's braking system. They will check for issues such as system leaks, corrosion of the master cylinder, build-up of varnish, drums or rotors that are worn, brake lines with air in them, pneumatic parts that are worn and more! They will also recommend a brake fluid flush if it appears necessary.
We also offer transmission services that will ensure your entire transmission system is clean and working properly. A drive line service may be recommended if the gear oil in your vehicle appears contaminated. If there are issues with your engine overheating, a cooling system service may be needed. Issues with your battery? We offer an in-depth battery service as well.
This is a glimpse into what our service and repair center has to offer. We often deal with issues such as faulty air-conditioning, worn spark plugs, old timing belt, damaged tires and much more! If there is an issue with your vehicle, please do not hesitate to get it serviced. Schedule an appointment and we will get you back on the road as quickly and easily as possible.