IRS Section 179 Deduction Benefits…
Buy a New Ford and Get a Huge Write-off!
The IRS Section 179 deduction provides a great opportunity for small business owners to invest in new equipment and realize tax write-offs on their 2020 IRS tax returns (up to $1,000,000).  This is a great tax benefit that your business can leverage to buy a new Ford and get a huge write-off! 
Normally, small businesses must spread deductions over several years. The tax benefits provided under IRS Section 179 allow many small businesses to write off up to $1,000,000 of qualifying new equipment in the year the equipment is placed in service.
Key Details:

To qualify for Section 179, the vehicle must be used for business at least 50% of the time.

To qualify, the vehicle must meet one of these requirements:

Heavy "non-SUV" with a cargo area of at least six feet interior length (this area must not be easily accessible from the passenger area).

Example: Many Bismarck trucks with full-sized cargo beds will qualify (although some "extended cab" pickups may have beds that are too small to qualify).

Vehicles that can seat nine-plus passengers behind the driver's seat (ie: hotel / airport shuttle vans, etc.).

Vehicles with (1) a fully enclosed driver's compartment / cargo area, (2) no seating at all behind the driver's seat, (3) no body section protruding more than 30 inches ahead of the leading edge of the windshield (in other words, a classic cargo van).

For 2020, the total amount that can be written off is $1,000,000.

The total amount purchased is limited to $2,500,000. The Section 179 deduction begins to fade out dollar for dollar after $2,500,000 is spent by a given business, making it a true small- and medium-sized business deduction.

Qualifying vehicles for Section 179 can be either new or used.

They can also be either purchased or leased.

Qualifying new vehicle purchases may also qualify for bonus depreciation. Bonus depreciation is generally taken after the Section 179 spending cap has been reached. The bonus depreciation is available for both new and used equipment.

You can only claim the Section 179 deduction in the tax year that the vehicle was placed into service.

You cannot claim the Section 179 deduction on a vehicle purchased for personal use the previous year, even if you change the purpose of the vehicle to business during the current tax year.
Use the Section 179 Deduction Calculator for 2020 and instantly know how much money you'll save when you lease or buy equipment this year by clicking here.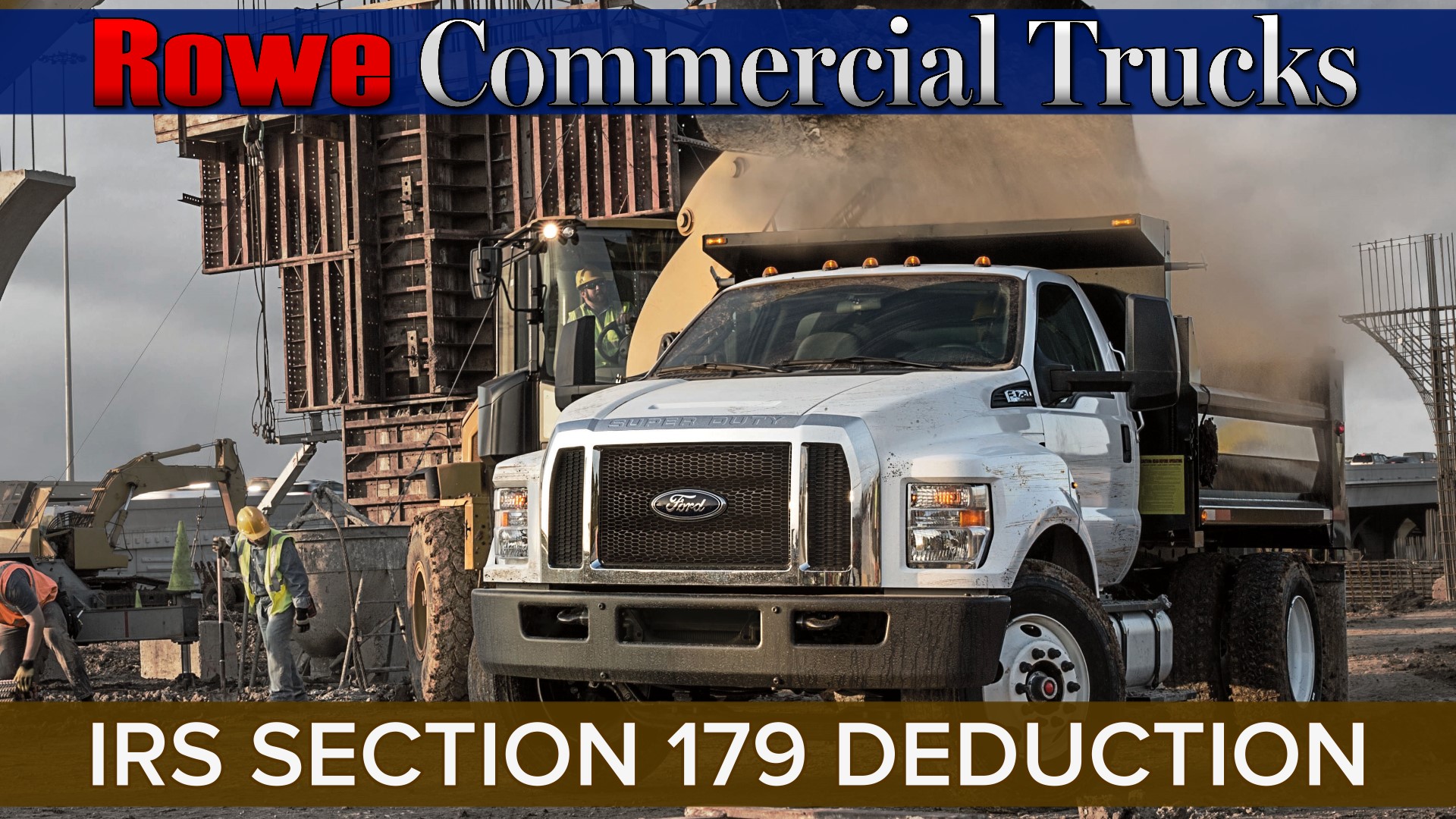 *To look at our Commercial Truck lineup, please visit our Work Truck Solutions website:
http://www.rowefordauburn.com/commercial-new-inventory/index.htm
HURRY! MUST ACT BY DECEMBER 31, 2020
TO GET DEDUCTION FOR THE 2020 TAX YEAR.

GIVE US A CALL AT (207) 904-5972 FOR IMMEDIATE ASSISTANCE
FAQWhat is IRS Section 179 & how can it help my bottom line?
Section 179 is the current IRS tax code that allows you to buy qualifying Ford vehicles and deduct up to the full purchase price (including any amount financed) from your gross taxable income if purchased before December 31, 2020.
That means that if you buy a piece of qualifying equipment and products, you may be able to write off up to the FULL PURCHASE PRICE from your gross taxable income.
Does the date of my purchase have an impact on the Section 179 deduction?
Yes. To qualify for the Section 179 tax deduction for the 2020 tax year, your Ford vehicle must be purchased or leased and placed into service by December 31, 2020.
Which vehicles qualify for the greatest IRS tax savings?
Trucks with a GVWR greater than 6,000 lbs. and a bed length of at least six feet (i.e., Ford F-150/F-250/F-350) qualify for the maximum first-year depreciation deduction of up to the FULL PURCHASE PRICE. SUVs, including trucks, with a bed length of less than six feet and a GVWR greater than 6,000 lbs. (i.e., Ford F-150 SuperCrew 5½ ft. bed, Explorer, Expedition) qualify for a maximum first year depreciation deduction of up to the first $25,000 of the full purchase price plus 60% depreciation of any remaining balance.
What about smaller Trucks/Vans/SUVs?
Vehicles of less than 6,000 lbs. GVWR (built on a truck chassis), such as the Transit Connect, may still qualify under current bonus depreciation for up to $11,560 per vehicle in the first year. Passenger automobiles under 6,000 lbs. GVWR also may qualify for up to $11,160 in depreciation.
For more information please refer to IRS.gov (Section 179 Deduction) -or- consult a tax advisor.