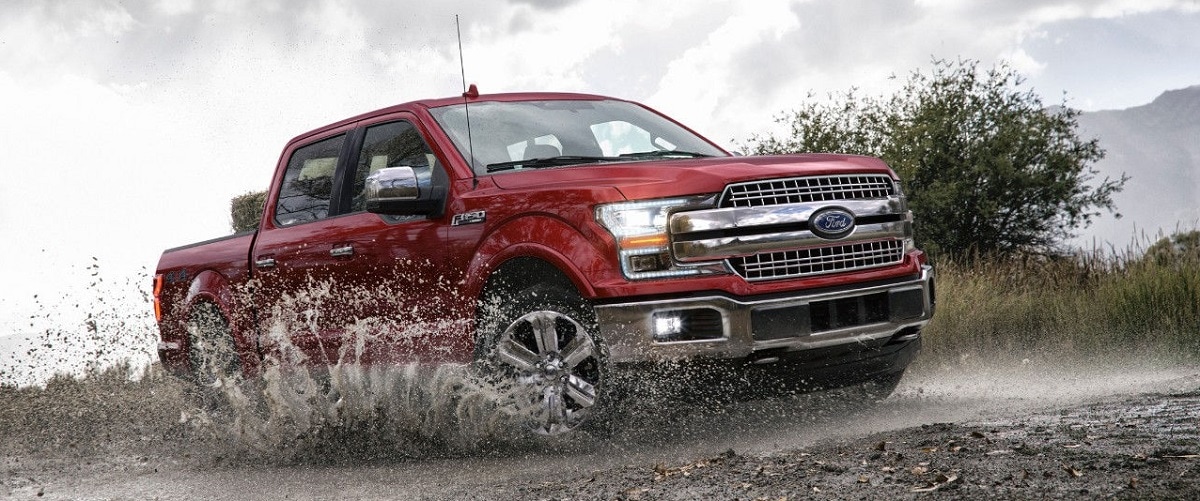 The 2021 Ford F-150 For Sale Or Lease At Rowe Ford Auburn
Entering into its next generation, the 2021 Ford F-150 is set to ramp up its performance options and introduce multiple, new cab configurations to provide buyers with the choices they desire. Six powertrains, one hybrid, three cab layouts, and a towing capacity of up to 13,000 pounds are what buyers can expect from this 2021 pickup truck model.
As a long-time staple in Ford's pickup lineup, the Ford F-150 has provided conventional towing and hauling solutions to consumers who rely on the dependability of this brand for years. Contact Rowe Ford Auburn to schedule a time to come see the new 2021 Ford F-150 for yourself.
What's New In 2021?
From the front to the back of this pickup truck, the 2021 Ford F-150 will see a complete re-design. No element will be left untouched, and no accent will be overlooked. As we near the end of 2020, we expect 2021 Ford F-150 models to begin to infiltrate our dealership inventory very soon. So, consumers who are interested in this model should be on the lookout for this vehicle's introduction in Auburn.
Performance Expectations
Diving into the performance changes for the 2021 Ford F-150 a bit further, buyers can expect a multitude of powertrain options to choose from. The following engine options are available for the 2021 Ford F-150:
3.3-liter V6
5.0-liter V8
2.7-liter turbocharged V6
3.5-liter twin-turbocharged V6
3.0-liter diesel V6
Hybrid Powertrain consisting of a 3.5-liter twin-turbo V6 and a 36 kW electric motor
Regardless of the powertrain that is selected, all engines will be paired up to a 10-speed automatic transmission. A choice between rear- and front-wheel drive will be available with all these options, as well. While we are not sure of the towing and payload specifications of this model just yet, we certainly do not expect the 2021 Ford F-150 to lose out on any horsepower or experience a reduction in capability. Maintaining its current towing capacity of 13,000 pounds, the Ford F-150 can easily keep up with rival pickups.
Technology Aspects
Just because this truck is a hard-worker doesn't mean it will miss out on any tech-based integrations that other truck models see. Featuring an eight-inch touchscreen infotainment display, the Ford F-150 utilizes SYNC® 4 software in its standard models.
Higher trim levels will see an upgrade to a 12.0-inch screen for easier viewing and enhanced user-friendliness. This size touchscreen matches one competitor in the field, while it engulfs a couple of others. Standard Apple CarPlay® and Android Auto™ integration will likely be paired with a Wi-Fi hotspot, navigation, and SiriusXM radio. A premium stereo system upgrade that features Bang & Olufsen features will be available as an upgrade.
SYNC® 4 software is a system that is unique to Ford models. It is multi-faceted and beholds the ability to control and track many aspects of the vehicle it is integrated within. Providing software release notifications through over-the-air updates and providing traffic and navigation updates straight into the navigation system, this technology is highly advanced and useful. It is also the system that is behind the provision of telematics that occur at an on-board level for fleet tracking and usage monitoring.
Interior Attributes
Even the interior of the 2021 Ford F-150 will see an upgrade to its look and feel that mimics the improvements of the exterior for this model year. Premium materials are utilized throughout the cabin that is covered in a plethora of storage cubbies to improve stowing capability. In addition, unique features are integrated throughout the inside of the 2021 Ford F-150 to help it function as a mobile workspace for professionals who rely on working directly out of their truck. The shift lever folds down completely to create an entirely flat workspace over the middle console that improves the interior functionality of this vehicle.
Though big changes in passenger space are not expected, the four-door crew-cab body style is undoubtedly the most spacious adaptation of this truck. Spanning to the outside of the truck, an optional on-board generator is an upgrade option that supplies extra power for work projects or tailgating. Foldable running boards also extend down the side of this truck to make reaching into cargo holds easier and more convenient.
Exterior Design Facets
Many of the exterior design elements of the 2021 Ford F-150 are dependent upon the trim level that is selected. From the front to the back, nothing escapes an upgrade for this truck's 2021 model year. Available trim levels for the 2021 Ford F-150 truck include:
XL
XLT
Lariat
King Ranch
Platinum
Limited
Varying body styles and bed lengths are available for consumers who prefer choices in their vehicle purchases. The XLT is a model that is commonly preferred, because it is a step up from the work-grade XL model that features the basic interior and exterior amenities that Ford implements in its F-150. Though the exterior of the 2021 Ford F-150 is completely different than any other we have seen before, it still offers the same style and charisma we are used to in Ford F-150 models.
Contact Rowe Ford Auburn Today
To learn more about the new redesigned 2021 Ford F-150, including arrival dates and financing options, contact our sales team to make sure you're staying up to date.